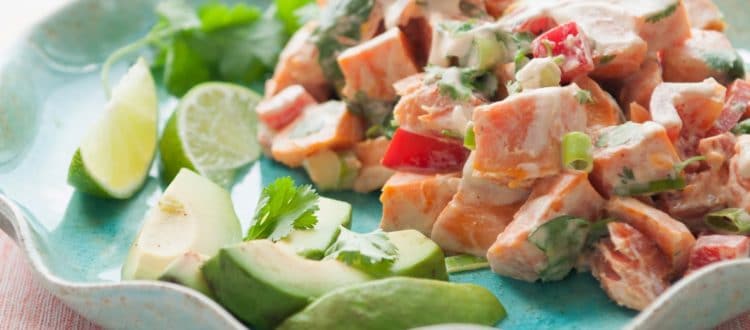 Recipe: Smoked salmon and yam salad
Jun 2, 2017
Feast on fish with this delicious smoked salmon and yam salad with a creamy chipotle-lime dressing.
"According to preliminary research, people who eat fish more than once per week have half the risk of developing age-related macular degeneration compared with people who eat fish less than once per month."
– Smith W, Mitchell P, Leeder SR. Dietary fat and fish intake and age-related maculopathy. Arch Ophthalmol2000;118:401-4
Serve the salad with sliced avocado and lime wedges. If you don't have smoked salmon, substitute any cooked fish, chicken or meat. If you are vegan or allergic to fish, replace the smoked salmon with 2 to 3 cups of cooked black beans.
Salad
3½ to 4 pounds yams, peeled and cubed
½ pound Vita Choice wild organic smoked salmon
1 red bell pepper, stemmed, seeded, and diced
4 to 5 green onions, sliced into rounds
½ cup chopped fresh cilantro
Dressing
½ cup raw cashews
6 to 8 tablespoons water
¼ cup freshly squeezed lime juice
¼ cup extra-virgin olive oil
1 small garlic clove
¾ to 1 teaspoon sea salt or Herbamare
¼ to ½ teaspoon chipotle chile powder
To make the salad, cook the cubed yams in a steamer basket over about 2 inches of water in a 2- or 3-quart pot. Place a lid on the pot and cook over medium-high heat. Steam for 15 to 20 minutes, or until fork-tender. Do not overcook! Transfer to a plate or platter to cool completely.
In a large bowl, combine the cooled yams and remaining salad ingredients and gently toss together.
To make the dressing, add all ingredients to a high-powered blender and blend on high until smooth and creamy. For a thinner dressing, add more water. Taste and adjust the salt and seasonings if necessary. Pour the dressing over the salad and gently toss to coat. Serve. Salad keeps in the refrigerator for up to 4 days.
Yield: 6 servings